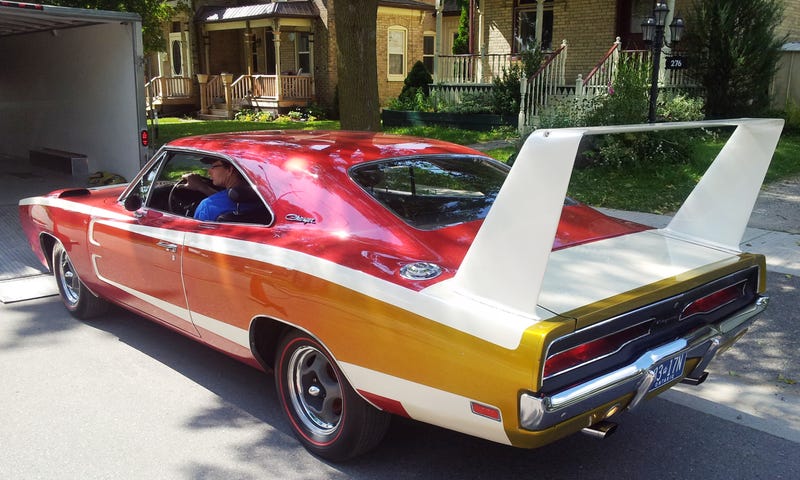 Jeff Cabot has a problem most classic car restorers don't: he's currently working on too many 1969 Dodge Charger Daytonas to keep track of.
He had four in his shop near Hamilton, Ontario the day I stopped by – the most has been six at one time – plus a few more lined up on his multi-year waiting list.
So to stay on top of them Cabot gives each a nickname. There's "Burntona," the one-time victim of a garage fire; "Rolltona," which rolled over into a ditch several years ago; and "Discotona," which sports a psychedelic fade paint job and stripes.
Another car has been dubbed "Doctona," since it was originally purchased by a doctor. But it could just as aptly be named "Firstona"—it happens to be one of the first-ever Charger Daytonas ever built, a pre-production car Chrysler used on the auto show circuit.
Cabot and business partner Mauro Brocca specialize in restoring cars like too-rare Charger Daytonas, Hemi 'Cudas and Dodge Challenger T/As to "OE specification"—that is, to fresh-from-the-factory condition.
They have a reputation for painstakingly replicating every stamp applied on the assembly line , for matching every glue smear sloppily brushed on—they'll intentionally reproduce every unintentional paint drip, even if it'll be covered up on the finished car.
Essentially, Cabot and Brocca's work involves making classic '70s Dodges and Plymouths perfect by marring them with imperfections. And they're among the best in the world at it.
Check out the full story over on Autofocus.ca.