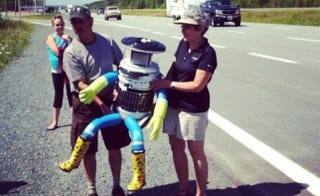 A hitchhiking robot has just successfully completed its coast-to-coast 6,000-kilometre (3,700-mile) journey thumbing for rides across Canada.
hitchBOT, which its creators consider a participatory art piece, started its trip in Halifax on July 27 and landed in Victoria, B.C. on August 17, reports CTV News.
"We're over-the-top happy. It's amazing," says David Harris Smith, a McMaster University communication studies assistant professor who created hitchBOT with Ryerson prof Frauke Zeller. "hitchBOT has really captivated people's hearts and minds."
What's especially surprising is that the robot – whose plastic bucket body and pool-noodle limbs are immobile, save for its motorized hitching arm – made the trek largely unscathed.
Harris Smith and Zeller's primary goal with the art project was to see whether robots could trust humans, and its success shows apparently they can—at least, if those humans are Canadian. hitchBOT's social media celebrity and the 90,000 or so Facebook, Twitter and Instagram fans it picked up along the way were secondary goals.
What's next for hitchBOT? Its creators are hoping to take it to a Silicon Valley tech conference, and are also considering offers to send hitchBOT to try to criss-cross other countries. How do you guys think it'd fare across the U.S.?