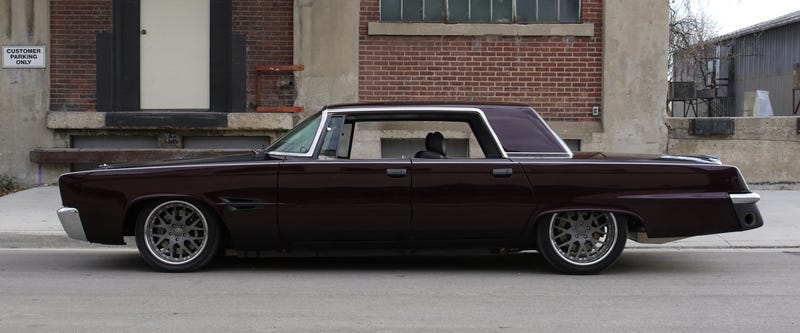 Viper V10 engines typically reside under the hoods of three sorts of vehicles: Vipers and/or Ram SRT-10s; mangled heaps of metal that were once Vipers and/or Ram SRT-10s; and batshit cray-cray Frankenstein cars you'd never expect to see Viper V10 engines in.
The Tyrant, by HPI Customs in Manitoba, Canada, is one of the latter sorts of vehicles.
To be more specific, it's a pro-touring 750-horsepower 1966 Imperial benchmarked against with performance and interior appointments inspired by Teutonic titans like the BMW M5.
It's a car HPI Customs seems intent on using to redefine Manitoba's reputation as one of the most boring provinces in Canada. (Looks like you're up to bat, Saskatchewan.)
The Tyrant debuted at SEMA this past year, where it was awarded Most Viper-Engined Four-Door and caught the eye of even the most cynical show-goers.
Has it caught yours too? We've got plenty more photos and info on The Tyrant over on your friendly neighbourhood Autofocus. As always, if you know of other crazy Canadian cars we haven't covered, ping me in the comments.