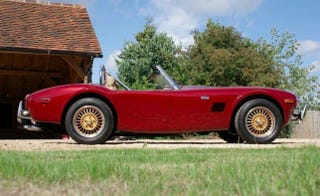 The Bricklin SV-1: with its bright "safety colours" and gullwing doors, it used to be your go-to answer when someone asked you for the coolest obscure vintage Canadian-built sports car you could name. I say "used to" because your new answer is this, the Aurora GRX.
It's a little hard to believe that this car ever existed, and that we never heard about it until now (er, two years ago—the story's from the Autofocus.ca archives.)
The guys behind it were sheer geniuses. Start with a Shelby Cobra 289 fibreglass body taken from a mold pulled off an original car. Add four-wheel independent suspension, a modernized tube frame and a mid-'80s Ford 302 V8 breathed on by Holman-Moody. Get expert craftsmen to hand-assemble each one in your factory near Toronto. Then ship it direct to Ford showrooms with a 12-month warranty and sell it for about $100k (in 2014 dollars).
Bam: that's how you make an Aurora GRX happen. If your buyers aren't salivating yet, add in bragging rights by making it one of the fastest North American production cars for sale (and piss the heck out of GM in the process).
Okay, there're more steps to it than that—we're sure making the thing meet emissions and crash standards was not easy. We get into the details behind how the Aurora GRX was born – and how it died, including the conspiracy theory that pins the blame on Oldsmobile – over on Autofocus.ca.