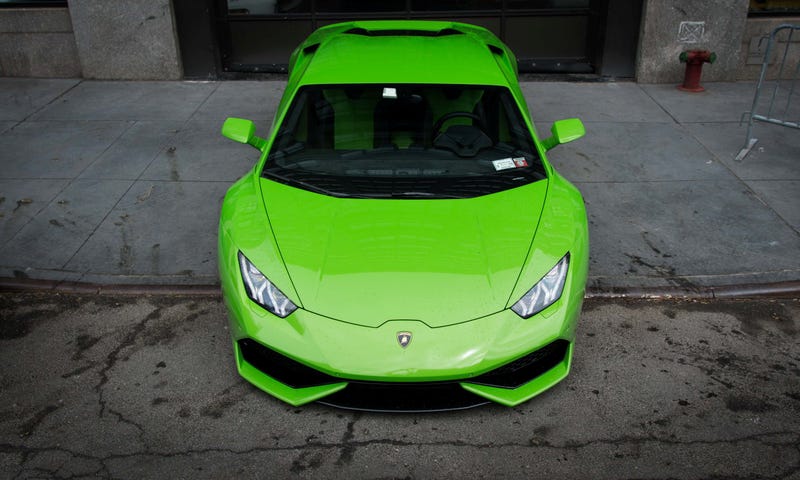 If you want in to the Classic Car Club of Manhattan, I'm afraid you're out of luck: the club's already sitting at their membership cap this year, and the renewal rate is 90 percent. Better get on that waiting list.
That said, they are taking applications to join the CCC Clubhouse, which buys you all of the benefits of membership—minus the access to the roughly 40 cars in its possession. Why would you join if you can't drive anything? Because there's more to the club than the cars.
We spoke with Zac Moseley, co-founder and director of the Classic Car Club of Manhattan, about the reasons people join—while in the passenger seat of the club's track-ready 320-horsepower Porsche 964 on a screaming-quick tour of lower Manhattan.
Because the clubhouse experience breeds camaraderie
The biggest draw to the CCC (besides the cars) is definitely the clubhouse experience, says Moseley, and the car-guys-shooting-the-shit that happens there. "If it was only the cars, you'd have your bucket list of what you want to drive, you'd check off the cars, and then you'd probably quit and just go buy one, but here you get engaged in this community—that's really what we're selling," he explains.

The club's well-stocked bar and lounge, which hosts happy hour-type events regularly, and which members have 24/7 access to, acts as a sort of hub for them to socialize, whether that means networking or just making friends. Moseley says they're definitely going to expand that area when they eventually move out of their Hudson Street location, and may even add a restaurant.
Because of all of the events (that make them better car people)
Moseley rows through gears like a pro as he confidently speeds past traffic in the 964, the 3.8-litre pancake out back making a raucous noise I've never heard a flat-six make before. I ask him if he's always been an expert driver. "I used to think I was," he admits, but track time in some of the club's faster machines early on showed him how little he knew. His driving's definitely improved in the ten years he's run the CCC.
The club hosts all sorts of driving events to similarly hone members' skills (or, for those who've already got a good handle on all that, maybe just to have a little fun). The CCC's very full calendar includes everything from basic mechanic's courses to road trips across the U.S. to tracks days with the club's own spec Miata racing team to jaunts to the Nurburgring in Germany.
Because it'll expand their automotive horizons
As you might expect, the most-often-booked cars in the CCC's collection are the fun, decently reliable modern sports cars, especially the mid-range stuff that won't cut too big a hole into a member's pocketbook. The most popular reservation? "The Nissan GT-R," Moseley nods. "We got that two months ago and I've barely seen it [at the club HQ]."
That said, bookings are first-come, first-serve, so if Godzilla's already gone for the weekend, sometimes members are forced into some of CCC's quirkier cars, like their E30 M3-powered BMW 2002, or Datsun 240Z. "The guys that just want to drive the Lamborghini or the Ferrari will be like, What's a Subaru [WRX STI] doing in here!?" says Moseley. "Then once they drive it, they get it, and you've shifted their whole perspective. Now they've developed a taste for something arguably cooler."
Because they've a car for every purpose
When Moseley started out with CCC, he actually didn't own a car (well, besides a Volvo 242 GT project he was tinkering with). "In the city a lot of people don't own cars, so I figured that 80 percent of members would be like me," he says. "Turns out probably 80 percent do own cars."
"They may have the obligatory European SUV of some sort, just so they have something to get the wife and kids around, and they use us to drive supercars. Or they'll own a sports car and actually use us to fill the gap when they need a four-seater sometimes. A lot will have both."
Whatever the need, the CCC has cars for pretty much every purpose, whether you're looking for something to keep up with traffic like a new Huracan, or a sedate-looking but fun sedan like an M5, or a classic convertible, or a Jeep. Their '69 Bronco has multiple possible uses, which may be why one member actually had them build an exact clone of the thing for him.
"We're partly responsible for polluting Manhattan with Broncos because we've had four of them over the years, and every one I've had has resulted in two or three others that I find for people or help build."
Because the service is absolutely incredible
The exotic cars in the CCC collection are, by their nature, going to have ticks, quirks and from time to time random breakdowns, and Moseley makes sure members know and expect that. "If it was the Reliable Car Club, we'd have a bunch of Honda Accords, and you wouldn't join it," he chuckles.
The club's use of flatbed tow trucks has tapered off in recent years, actually, but when stuff does hit the fan, they're there to help. "We had one member on an early date with a girl, and he was insistent on taking the Cobra because he thought it would be the cool thing to take, even though it was raining," Moseley recounts.
"So he picked her up and drove her to dinner, but as they got there it started to sputter out. The ignition system was wet, and it wasn't firing, so he parked it, called us, and we said, 'We'll figure it out.' In the time he sat down for dinner, we brought up a Subaru WRX STI, swapped it in his parking space and left the keys with the hostess. So he got to have his Cobra experience and save the date."
The two of them have since got married and have two kids, says Moseley, which brings us to the main thing keeping member retention from hitting 100 percent.
"We've been here long enough that that's happened a lot, where we'll have members who were single, met a girl driving one of our cars, and now they're married, and then they have kids," he explains. "And then they move to the suburbs, and it's like the only thing we lose members to, relocation."
"Well, or pools, because now they have to build a pool for their suburban house."

(Some of the images courtesy the Classic Car Club of Manhattan's Instagram)