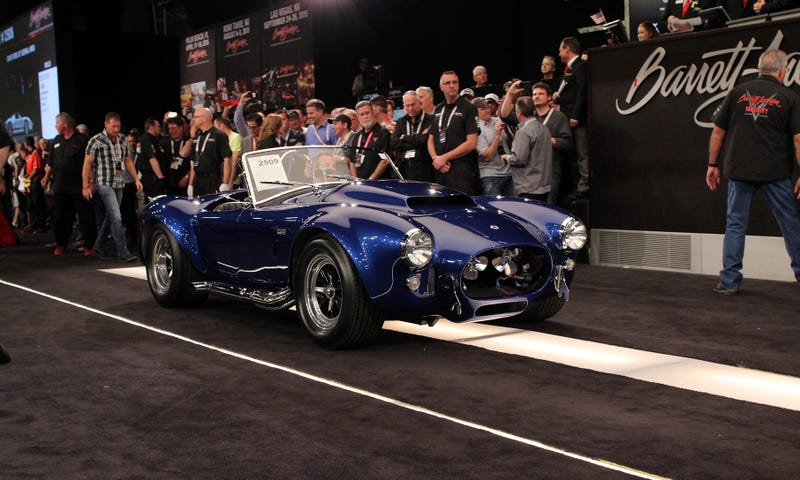 By the end of Sunday, January 18, after nine straight days of awesome auction action, the Barrett-Jackson event in Scottsdale, Arizona wrapped up, having moved $130 million in cars across the block.
The top sale spot at the auction went to the one-of-two-made 1966 Shelby Cobra 427 Super Snake numbered CSX 3015, which the seller, collector Ron Pratte, actually picked up at Barrett-Jackson in 2007 for $5 million.
A minimum reserve of probably that amount meant that, as bidding stalled around the $4,700,000 mark, the sale almost didn't happen—but Pratte later worked out a final price of $5.115 million for the car.
Other top sales included the 1954 Pontiac Bonneville Special Motorama concept car that ended up earning Pratte $3.3 million; and the Boyd Coddington-built "Whatthehaye" custom, which went for $671,000. (In fact altogether the headlining Ron Pratte collection sale made up $40-plus million of the overall sale total at Barrett-Jackson.)
Before you get around to assuming it was all muscle cars and hot rods bringing home the big bucks, several European marques placed in the top ten, too, including an absolutely gorgeous 1949 Talbot-Lago T-26 Grand Sport Franay that crossed the block for $1.65 million, and a pristine Mercedes-Benz 300SL "gullwing" that wrested $1.1 million from one lucky bidder's hands.
Over the course of the week ten cars crossed the block just to raise money for charities; the biggest fundraiser of the event was the behemoth 1950 GM Futurliner Parade of Progress tour bus donated by Ron Pratte. The entirety of its $4 million sale price went directly to the Armed Forces Foundation. The first-ever 2016 Shelby GT350R, the yet-to-be-built VIN #001, drew a $1 million bid for JRDF, a group dedicated to curing diabetes.
Check out the top 10 cars sold at Barrett-Jackson's Scottsdale 2015 auction
(Ford CEO Mark Fields drove a pre-production GT350R across the auction block as a stand-in, but the actual car will be built to customer specifications.)
The first new 2016 Cadillac CTS-V, donated to the cause by GM, raised $170,000 for charity, but getting back to Mustangs, Shelby also chose the event as the place to unveil its 2016 Shelby Mustang GT.
"This year's Scottsdale auction was on a scale unlike anything in our 44-year history," Craig Jackson, chairman and CEO of Barrett-Jackson, said in a release at the event's close. "From sales and consignments to our ratings on Discovery and Velocity, we smashed records at every level."