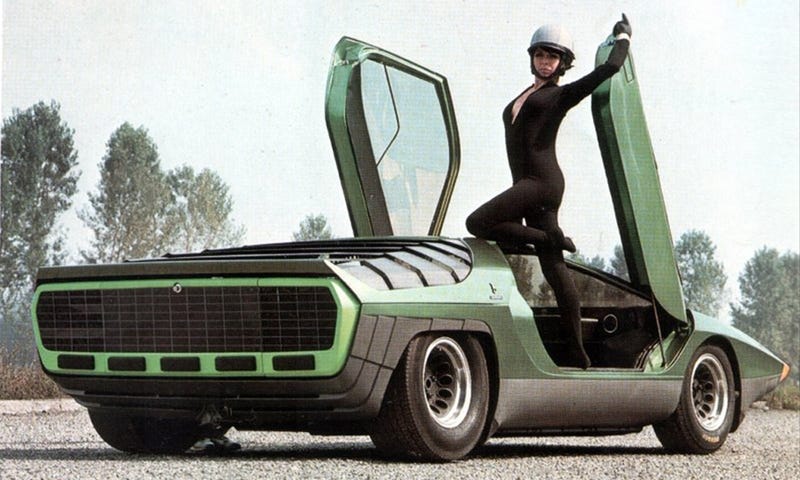 Prior to 1968, there were essentially four types of car doors: conventional and/or 'suicide'-hinged doors; sliding doors a la the Kaiser-Darrin roadster; 'gullwing' doors, as worn by the Mercedes-Benz 300SL; and the my-face-is-a-door (see the Isetta, or the Zundapp Janus, whose butt was also a door).
Then, at the '68 Paris Motor Show, Marcello Gandini of styling studio Bertone gave to the world a new way to open doors: scissor-style.

Gandini needed a way to clear the too-high-and-wide door sill – the 300SL had had the same problem – on his Carabo concept car and thus devised an opening that we know today as "Lamborghini doors."

Except the Carabo was based on an Alfa Romeo Tipo 33.
Lamborghini doors wouldn't make their way onto their first Lamborghini until 1971, three years later, and then only on a concept car (Project 112, the Countach LP500 prototype).
The company'd hired Bertone to design the car, and Gandini, faced with a similar door sill problem, worked the new doors into the Countach's look. That's when – and why – they became "Lambo doors."
(Crazy, right? It'd be like if Ford had originally designed the Jeep seven-slot grille! Wait a minute—.)
For a fuller history of the iconic Lamborghini doors, head over to Autofocus.ca. We've got it in photos, too, for even more scissoring pr0n—I mean, scissoring, uh, action—door opening—yeah.