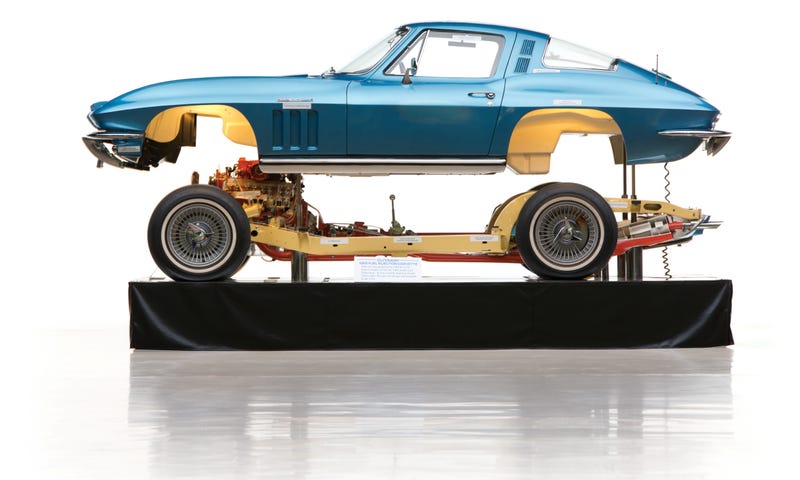 Texas' Paul Andrews and his son Chris have a lot of cars, and they really run the gamut. From a 1950s Canadian-market Mercury pickup truck to a nicely liveried Porsche Cayman S track car, they've got a little of everything.
But the two are thinking of paring down the family collection to a reasonable(?) 15 or 20 cars, and have tapped Ontario, Canada's RM Sotheby's to help them sell off the rest.
The May 2 auction in Fort Worth will see some incredible machinery cross the block, including the requisite multi-million-dollar vintage Ferrari and some absolutely exquisite pre-war luxury marques.
If you ask us, though, the coolest lots up for grabs aren't even cars, but rather some of the car-related memorabilia the Andrews have collected over the years. Like this '65 Corvette car show demo stand, for example.
GM had this stand put together for the 1965 auto show circuit using a '65 'Vette taken off the end of the assembly line. A company specializing in exhibition displays then took it apart, mounted the body and interior on a set of electrically-driven rams, and painted the chassis components so they'd stand out.
The cutaway engine parts helped show off the internals, which would actually turn (at slow speed) to demonstrate how the thing worked. Neat, huh?
After it finished touring the '65 show circuit, the demo stand somehow ended up in South Africa, where it was discovered by an American in the mid-'90s, brought home, and restored. RM Sotheby's estimates it'll go for north of $1 million.
For some of the other way-neat lots in the Andrews collection auction, check out our gallery here.
(photos by Darin Schnabel, courtesy RM Sotheby's)