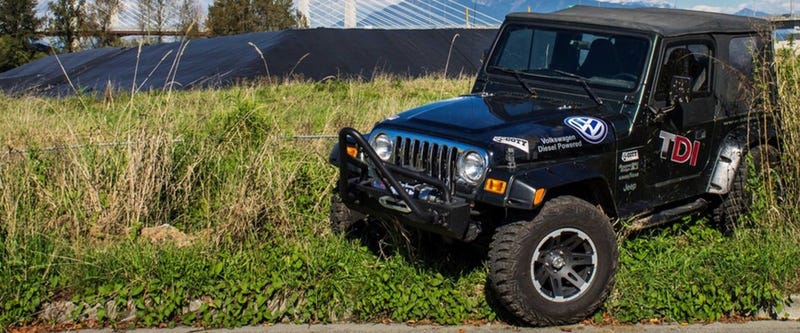 If you're a Volkswagen enthusiast, there's a good chance you've already heard of HPA Motorsports and/or their work. They're the British Columbia, Canada-based guys behind that VR6-powered New Beetle that was in all the mags back in '98; that nutso 200-mph R32 (y'know, the one in Gran Turismo 4?); and the near-500-horse "Golfzilla" GTI.
If you're not a Volkswagen enthusiast and you haven't heard of them, well, here's your introduction.
Here at Autofocus, we love highlighting crazy Canadian car stories, and these guys definitely fit the bill. Ferrari-beating tuned Vee-dubs not crazy enough for you? How about Volkswagen TDI-powered Jeeps?
Sure, a Cummins swap is also an option for diesel-loving Jeep fanatics, but those thing ride like a washing machine compared to HPA's fuel-efficient-but-torquey-as-hell 2.0-litre VW-driven Rubicons. HPA's are a lot more affordable, too.
I'mma stop talking now and just link you right to our story. Oh, and if you know of any other Canadian car stories that people should know about, tell us!